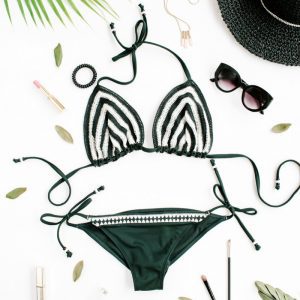 Do you dare to bare? The answer, it seems, is that you're more likely to feel comfortable with your body if you're over 65. Perhaps it's time we all cared a little less and bared a little more, argues Gina Jones.
Does your stomach sink a little every time you see one of those 'bikini season' editorials in the fashion magazines? Does your bikini shopping trip focus less on which costume is on trend and more on which one covers your muffin top the best? You're not alone. If I could swathe my body in a dark linen sheet and swim carefree, I totally would. The problem might not be your flabby belly or stretch marks though; it might be your age.
A recent swimwear survey by fashion retailer M&Co found that the least confident women when it comes to baring their bods in bikinis are those aged 18 – 24 years. In fact, 56% of them buy swimwear cover-ups to hide their 'problem areas'. (Side note: ladies, let me tell you, at your age you've got it all. Your biggest problem area should be the empty glass by your sun lounger. Fill that bad boy up and get those thighs out. You look amazing.)
It doesn't get much better in the next age group up. Of those aged 25 – 34, 45% feel uneasy around others when wearing swimwear. More than half the women in this age group would never share a swimwear selfie on social media.
Interestingly, the most confident women in the survey were those over 65; 51% of them said they have more important life concerns than obtaining the dream bikini body. Perhaps we all have something to learn from them. If you spend your life worrying about your 'bikini body', you won't be enjoying that time taking that body out to see new things, and having new adventures with it. No one goes to their deathbed saying 'I wish I'd spent more time dieting'! By the age of 65, most women have worked out that time spent focusing on the negative parts of their bodies is time wasted. How amazing would we feel if we figured that out a little sooner?
Someone who has figured it out (and whom, by the way, I would totally be up for going on a girls holiday with because she seems like fun) is Stacey Solomon. She posted a brilliant video on Instagram this week captioned 'SHOUT OUT TO EVERYONE ON HOLIDAY WORRYING ABOUT HOW THEY LOOK'! In the video, the mum of two celebrates her 'imperfections', joking about her so-called muffin top and 'saggy boobies'. Take a look at her fabulousness here:
Stacey is funny, relatable and totally not worried about what other people think of how she looks in her bikini. Surely that's the girl we'd all like to be – not the one counting every calorie and looking in a mirror constantly.
As if to prove my point, I am writing this in the café of an outdoor spa here in Bristol. Under my standard writing outfit of jeans and a cashmere sweater, I have a bikini on. Not the itsy bitsy teeny weeny yellow polka dot kind, but a two-piece bikini nonetheless. Through the window I can see women of all shapes and sizes swimming back and forth in the lovely outdoor pool. I've been procrastinating about whether to strip off and dive in. I haven't worn a bikini since I gave birth to my daughter almost a year ago, and to be honest it feels weird. Things don't sit in the same places any more, and my body is bigger and saggier than it used to be. If I go for it, everyone here will be able to see me through the window, but you know what? I'm going for it. I can't wait until I'm 65 for a good swim, and neither should you.
(P.S. Stacey, call me!)
Planning a holiday? Read our Fashion Lover's Guide To Holiday Packing to help you get your suitcase under control!