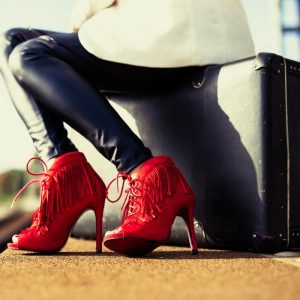 So you're a shopaholic with a tendency to over-pack when going away? We hear you! Here are some tips for stress-free summer packing…
If you love to shop, the most nerve-wracking part of any holiday isn't getting to the airport, or even getting on the plane – it's the part at check-in where they ask you pop your bag on the scales. Having spent maybe a week beforehand mentally planning all your holiday outfits, the last thing you want is to be frantically unpacking it all at the desk and trying to decide which pair of heels you can live without.
So many articles have been written about 'how to pack smarter', but in reality a lot of the advice they give is unachievable. Fashion columnists always tell us to pack items you can take from 'beach to bar', like a simple pair of cotton trousers that you can 'throw on over a bikini and then jazz up with a sparkly top at night'. Nice idea, but you try knocking back a piña colada at the bar with sand trickling out of your pockets and, er, other places. (FYI we've tried it and it's not fun). With this in mind, here's our practical advice for those who want to stay stylish on holiday.
Capsule collection
Packing for a holiday is very much like creating a capsule wardrobe. The items need to mix and match but, depending on the type of holiday you're having, it also needs to contain at least one dressy outfit for when you want to go 'out out'. With this in mind, it helps to colour co-ordinate your looks, keeping to three or four key colours, balancing patterned separates with plain staples like a white T shirt or denim shorts.
Choose better fabrics
While you don't want to spend ages rinsing out all your clothes after you've worn them (it's supposed to be a holiday, after all), it helps if some of items you've packed can be easily freshened up if you need to. For example, Sweaty Betty sells a range of Yoga vests made with quick drying plain fabrics, which go with everything – it means you can pack fewer of them and you won't be going home with a massive load of stinky tops at the end of the holiday. Also, bear in mind that natural fibres like merino wool tend to smell less, so you're likely to get more wear out of them than synthetic ones.
Accessorize wisely
By using the capsule wardrobe approach, you'll hopefully be packing fewer clothes overall, which means you can afford to cram in a few accessories. Choose these with care, and they could transform your outfits. Long chains or beads are a good piece to include as you can wear them as a necklace or wrap them around your wrists as bracelets, depending on which look you want to go for.
Multi-tasking shoes
If you're a shoe hoarder, the idea of cutting back on footwear might seem unthinkable, but hear us out. You only need two or three pairs of shoes. Go on then, three: a beach pair, a comfy pair for walking around, and a 'going out' pair. Honestly, that's it. Be ruthless. Wear one of these to fly in, and that's a whole lot of room you've saved in your case for duty free make up and souvenirs (ok, holiday booze) on the way back. Since you've only got one dressy pair, choose wisely. A comfortable platform heel in black or a metallic shade will probably be a better investment than, say, a vertiginous stiletto in this season's must-have print that you can't quite walk in.
Lock it down
If you're still struggling to fit everything in, buy some Ziploc bags (yes, the kind you put sandwiches in, only bigger) and use those to store things like tops and underwear in your suitcase. This will save you lots of space as it gets rid of the air between the items and means you can cram more garments in. It may not make your suitcase lighter overall, but at least you won't have to sit on it to zip it up, which is a bonus.
Have you got any holiday packing tips? Tweet us @TheimageConsCo and let us know.