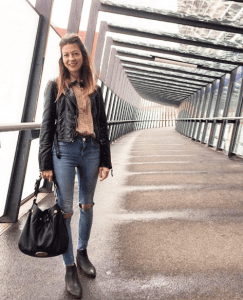 Personal stylist and full-time fashion blogger Chrissy (a.k.a. Just So Fashion and Chrissy Styles Me) shares her journey to fashion success and spills a few style secrets along the way…
Tell us a bit about your journey to becoming a personal stylist.
I started fashion blogging as my 9-5 job as a PA wasn't fulfilling my creative needs. I met a couple of friends at fashion events in Bath who were personal stylists themselves and that planted a seed, as I've always wanted to work in the fashion industry. I met Emmeline (owner of The Image Consulting Company) through a competition she was running in Bath a few years ago, and when I found out the company was running a personal stylist training course, it seemed like the perfect opportunity for me to make a change.
What's the most common question clients ask you at styling sessions?
A lot of clients have items they love but say, 'I've got nothing to wear it with. The first thing I do is go through their wardrobe to see what they have that could be styled with it. Each item in your wardrobe should generally be able to be worn three ways, so if that's not possible, we would usually follow up with a personal shop to purchase some items that it could be mixed with to create an outfit.
What is the biggest misconception people have about being a stylist?
Sometimes people assume stylists are intimidating, but this is so far from the truth. We're here to make you feel confident in your clothes, to help you fall in love with the items again and enjoy styling them. It's important to make the experience fun and for the client to feel pampered.
What are the most fun/most challenging parts of being a stylist?
My favourite part is finding an outfit a client falls in love with and makes them feel amazing. I just love that smile on their faces when they first look in the mirror at it. The most challenging part is that it can be a very physical job and you need to be ready to tackle anything.
You're also a fashion blogger. How did you first get into blogging and how has your blog evolved over time?
Moving from London to Bath inspired me to become a fashion blogger. I've always loved styling clothes and all the independent shops in Bath inspired me a lot. A friend of mine was a travel blogger and she suggested I start a fashion blog to share my style. I haven't looked back since. Blogging has changed my life and brought me to where I am today. Over the years, Instagram has taken over slightly, because each post is like a mini blog in itself, and it's made the photography even more important. Great pictures really are the key to a successful blog.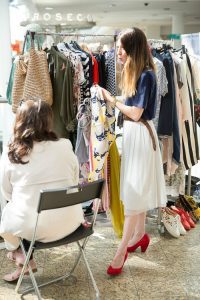 How would you describe your style?
My style is eclectic, and also a bit retro. I love wearing high street fashion and following trends, but I get a real kick out of finding items you can't get on the high street and mixing things up with vintage pieces. I especially love 1970s styles, colours and patterns. I'm also a bit of a denim addict.
Who or what inspires your style the most?
Olivia Palermo is my style crush, and I love flicking through fashion magazines. I'm inspired every day by different things, whether it's checking out what people are wearing on the street or on Instagram – I'm always on the lookout for new and interesting styles.
What are the items in your wardrobe that you couldn't live without and why?
At the moment it's my high-waisted trousers – they're a real saviour after having a baby. They are way more flattering than low waists and give me more of a waist.
What's the best piece of style advice you've ever been given?
The first is 'if in doubt, choose the outfit that makes you feel amazing, and not the one you feel safe in'. That's so important and will make a big difference to how you look at your wardrobe.
Also, 'never wear white knickers under light coloured clothing; always go for nude tones'. I don't know whether that's the best piece of advice, but it's been one of the most useful!
What advice would you give to anyone thinking of becoming a stylist?
I'd say 'stop thinking about it and just do it'! I wish I had done it years ago!
What hopes do you have for your styling business in future and your career generally?
I'd like for my business, 'Chrissy Styles Me' to be successful and to have lots of clients who return again and again. Giving my clients confidence and happiness makes me feel like I'm making a difference and is so rewarding.
Considering a new career? The Image Consulting Company offers a personal stylist training course, where you'll learn everything you need to know to start your journey to styling success. The next course begins in September but places are limited – enquire for details.