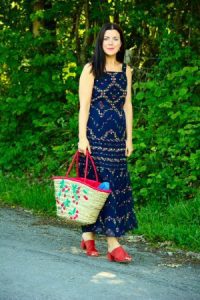 Following her successful turn as guest speaker at our Social Brunch Club event, we caught up with fashion blogger, mama and body positive activist Rachel (a.k.a. Rachel The Hat).
You were a big hit at Social Brunch Club recently. For those who didn't make it, tell us a bit more about your talk.
It was wonderful, and such an honour to speak to a group of fantastic ladies. I was there to speak about blogging, so I discussed how and why I started and how I later made it my day job. I love to talk about blogging, as it's such a wonderful supportive community. I'm a strong believer in the power of individual voices – nobody else has your voice, and the more voices we have in the online community, the better it becomes.
How did you first get into blogging?
Back in 2011 blogging was just taking off in the UK and my sister was following lots of craft blogs. She mentioned to me that there were fashion blogs and that I should look into setting one up as an outlet for my fashion finds. I found lots of American fashion bloggers and was blown away with this new form of media. It instantly took over my need for fashion magazines, as these ladies all seemed so relatable and so real, just like me! I was to shy to post any photos of me at first so it was mostly ramblings and collages of things I liked. I ended up taking a few selfies, but I wasn't happy with them and ultimately ended up roping my husband in to take my photos.
Your blog was named because of your love of hats and also your maiden name (Bowler). Do you still like hats?
I love a good hat! I have different hats for different occasions; a straw Panama hat for summer, a black cap for when I'm out walking my dogs and through winter there's nothing I love more than a big slouchy bobble hat. I'm also desperate to get my hands on a baker boy hat like Keira Knightley wore in Love Actually. I love the idea of pairing it with a ditsy floral dress, or with boyfriend jeans and a cashmere sweater.
Your blog is now your day job. Can you tell us a bit about how this came about? When did you start blogging full time?
Two years ago I was working in a travel agency. I loved the team I worked with, but I didn't love the job. I hated being in sales and just didn't feel comfortable doing it any longer. At that point I had been blogging for four years and it had started to generate income, something I had never expected. When the blog started to make as much as I was earning at the travel agency, my husband suggested that I stop my day job and focus on the blog instead. It turns out, this was good advice!
What's the difference between blogging as a hobby and doing it as a job? Do you approach it differently now?
When I first started doing it full time I didn't change my approach and still treated as I did when it was a hobby. I soon realised that it required planning, though. I began to brainstorm potential blog posts and began pitching myself to brands – something I would never have done before. Nowadays I plan my posts a month in advance and always have back-up content, too. I try to blog at least three times a week and schedule tweets, something I also never previously did.
I have to be quite strict with myself, as when you work from home the temptation is always there to drift off and watch TV, browse the internet or go shopping. To get around that, I assign allotted hours to get things done and plan in breaks where I need them. I also have to remind myself to take time out, because constantly being at your laptop and writing all the time can make you burnout, if you're not careful.
How would you describe your style?
It's fickle! My style has changed A LOT in six years. I feel happier and more confident in myself and my wardrobe choices now than I did in my early twenties. For me, a classic Breton top and a great pair of jeans will forever be my go-to look. I also love a good jumpsuit and a red dress – in fact, I love anything red. My style also changes with the seasons; I'm a little more preppy in winter, but boho in summer. A lot of the time my style centres around denim pieces, accented by a pop of colour, simply because they're so versatile and they suit my busy lifestyle.
Who or what inspires your style the most?
Instagram and blogging inspires me more than anything. I'm not one to follow celebrities or particular fashion trends. I love seeing other mums on Instagram, seeing what they wear for day-to-day life and being inspired by their choices.
What are the items in your wardrobe that you couldn't live without and why?
For me, it's got to be a Breton top, preferably one with white and black stripes. It's a classic piece and goes with everything. I don't think I'll ever get bored of it. I'd also have to say a pair of cropped flared jeans, which are much more flattering to my pear shaped figure than skinny jeans. Finally, I couldn't live without a red dress, because every girl should have a red dress that makes her feel amazing.
What's the best piece of style advice you've ever been given?
Don't slump. I know it sounds silly, but if you wear your clothes with conviction and stand tall, you can make anything look good.
What advice would you give to young bloggers just starting their journeys?
Be sociable, talk to other bloggers, comment lots on people's posts, and get involved with others in the community. Don't be scared to contact another blogger for help, because the person you might think of as an unapproachable 'Big Professional Blogger' is just a lady sat behind her computer, like you. Also, don't be scared to write thought-provoking posts. As much as people love the fashion and style, they also love to hear your thoughts.
What hopes do you have for the future with your blog and your career generally?
Oh, I have lots of hopes and aspirations. Firstly, I would love the blog to continue growing and have a larger readership and reach more ladies, expanding the blogger community. I'd like to work with more brands. I'm also considering offering professional styling services to offer people. Finally, I want to finish the novel I'm currently writing and have it published. (It's a 'chick lit' fashionista story). Looks like I'm going to be busy for a while!
Our next Social Brunch Club event will take place at Kilver Court on 9 September. Tickets are available online here.